Do Not Close This Page, Please Customize Your Order
Do Not Hit The Back Button - It Will Cause Errors In Your Order
Before Diving In To "Overcoming Procrastination" You Really Need To Know About This ONE TIME ONLY opportunity that will not be repeated.
Power Your Mind For Abundance, Full limitless positivity, Less worry and stress, And a life of purpose and value

I created this advanced program to produce FASTER, EASIER, more BLISTERINGLY POWERFUL and almost IMMEDIATE results, with LESS work and LESS time investment from you.
The good news is, it won't take you ten weeks to learn … or ten days … or ten hours.
We specifically designed this powerful accelerator course for busy folks who DON'T have a lot of spare time … or who just need results really QUICK.
We've packed all the most powerful, proven and tested accelerators and intensifiers into this Advanced Program that goes way beyond the scope of what I was able to include in the regular program.
This Advanced Program has a retail value of $199, but today only, because you're a new enrollee, I'll tweak the rules and give you a special one time only discount of more than three quarters OFF …
Saving you a massive $152 off the retail price … and you get a special bonus track completely FREE!
Why Am I Doing This
Simple: because it gets you the results you want FASTER and EASIER than if you just used the regular program alone.
When you apply THESE intensifiers and accelerators you are proven to increase your results by up to 800% …
… getting you the same results in DAYS, that might ordinarily take you months or even years to achieve.
Here's the deal: Just click on the upgrade button for the Advanced Program now, and I'll get you INSTANT ACCESS to it.
And get the complete package for just $47 saving you over 75%..
Just my way of saying thanks for your decision to take action today.
Here's exactly what you get when you add "Power Your Mind for Abundance" to your order today…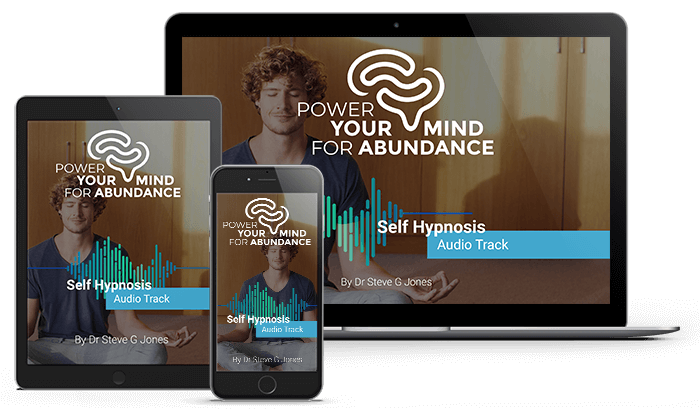 Power Your Mind for Abundance
Power Your Mind for Abundance contains 4 carefully crafted self-hypnosis guided meditation audio tracks that you simply listen to, one by one, in order, over a period of 2 weeks.
If you are sick and tired of the status quo.. And where you are at in your life right now…
…Or you simply want to upgrade your mindset to overcome ANYTHING life may throw at you…
This is the quickest and most potent way for you to banish those pesky mental shackles that have you restrained and imprisoned…
STOPPING you from a more prosperous, productive, and joyful life.
The good life is waiting for you!
AUDIO TRACK 1
Every Day I Am More Positive About My Life
This is the first track of the Power Your Mind for Abundance system.
This crazily, powerful self-hypnosis meditation track is designed to program your mind for positivity and upgrade your life every day!
This is the path to enjoying lasting ongoing improvements for years to come.
As you listen to this track, you'll break down limiting beliefs that may have subconsciously been blocking your progress for years (without consciously being aware of it).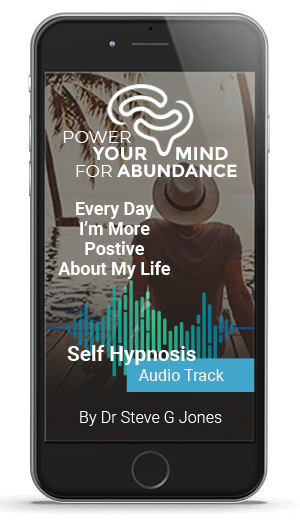 You'll instantly begin to integrate highly sought-after growth-habits into your daily routine – Until your mind is filled with positivity like clockwork.
Without having to think about it you'll naturally propel yourself to a life rich in positive energy and abundance.
To get the best results, I highly recommend listening to this particular track at least twice daily for 2 weeks.
However, you could also even do as much as 5 times a day. And will embed these vital thoughts and habits deep in your subconscious mind.
AUDIO TRACK 2
A Worry-Free Mind
Worries and stresses happen to us all, but they can also escalate quickly and consume our ability to FEEL happy.
They keep you up at night…
Play on your mind and franky stop you from enjoying the life you live…
That's why it is VITAL to take care of them before take-hold of you.
This Self-Hypnosis Audio track is a fast and effective way to release your worries from your body each night before you go to bed.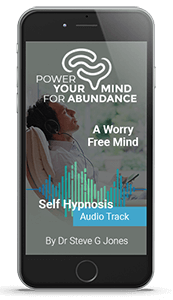 Listen to this track directly before you sleep and wake up feeling grateful, happy, and ready for a new day.
AUDIO TRACK 3
Spiritual Calm
Everyone is looking for peace. The tranquillity of being comfortable, safe, and happy with whom you are as a person.
This self-hypnosis audio track was designed to help you connect your mind, body, and soul.
Through Hypnosis, it becomes easier to achieve real and complete relaxation by focusing on relaxing and soothing the mind.
To create a lasting spiritual calm that washes through your entire body.
With peace inside, nothing will be able to hold you back.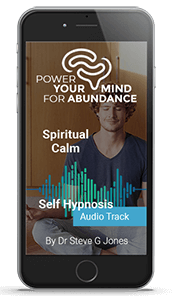 AUDIO TRACK 4
Unlimited Gratitude
Being grateful for what we already have is a huge step towards an improved life.
After all, if we can't be thankful for our life right now, then it makes it nearly impossible to be grateful for what we receive in the future.
This Audio track invites you to step into a world of gratitude and appreciation for the person we are today.
(Even if you can't see it now)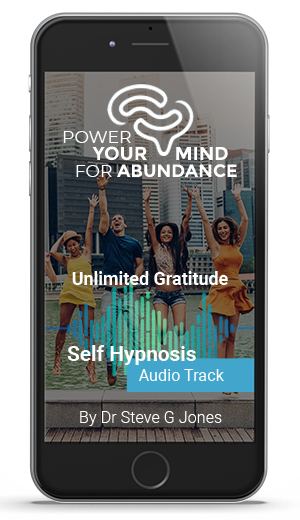 And it will help you focus your time and attention on what you appreciate and in the process will soothe your mind and bring you a sense of peace you may not have experienced before.
BONUS AUDIO TRACK
A Life Of Purpose And Value
Realizing your true purpose is essential for reaching the limits of life's possibilities:
It lets you dream big and manifests those dreams into the real world.
Using the power of suggestion this audio track propels its listener to new heights of discovery, putting together the missing pieces of the puzzle to identify their greater purpose.
Once revealed you could enjoy limitless opportunities in life that deliver a beautiful life you value and are proud of.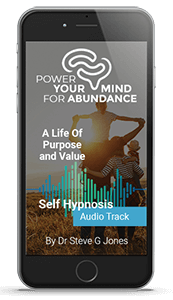 This premium program currently sells for $199.00...
Every Day I Am More Positive About My Life
BONUS TRACK: A Life Of Purpose And Value
But as a thank you for purchasing "Power Your Mind for Abundance" today, I'm going to give it to you for the lowest price we have ever offered it, of just $47.
That's $152.00 OFF...
A Savings Of 78%!
YES Steve! I definitely want to take advantage of this one time only HUGE discount offer. Please add the above program to my order for a one time only payment of just $47.
ADD TO MY ORDER
(this course will automatically be added to your current order)
No thanks, just take me to the next step
(Warning: If you choose this option you might never see this one time only offer again and could miss out on this incredible discount opportunity.)
DO NOT CLICK THIS UNLESS YOU WANT TO CLOSE THIS PAGE FOREVER
ClickBank is the retailer of products on this site. CLICKBANK® is a registered trademark of Click Sales Inc., a Delaware corporation located at 1444 S. Entertainment Ave., Suite 410 Boise, ID 83709, USA and used by permission. ClickBank's role as retailer does not constitute an endorsement, approval or review of these products or any claim, statement or opinion used in promotion of these products.